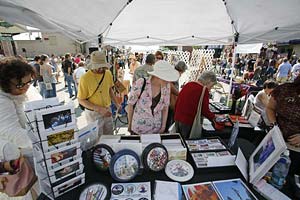 stART, an innovative arts celebration on the street, was the brainchild of an independent group of local artists. In 2002, these artists and art lovers, inspired by a public forum for the Arts District Master Plan process, decided to continue working together in support of a City-planned Arts District. The group originally called themselves Worcester ARTists Really Trying (wART). Their objective was to ensure that their community would increasingly recognize and support the value artists and the arts create within the greater Worcester community. Towards that goal, founders pooled their creative resources and energy to plan and present a street art festival on Main Street, in the newly designated Arts District.
In September of 2002, after 5 months of dedicated work, stART on the Street was born, and the community responded. stART on the Street returned by popular demand in 2003, and by the 3rd festival in 2004, it was clear wART had created a well-loved and eagerly-anticipated tradition. During this time, wART's mission and the acronym's meaning had continued to evolve. The group renamed itself, "Worcester ARTists Rallying Together," reflecting stART's success, and the continued growth of the artist-driven cultural celebration.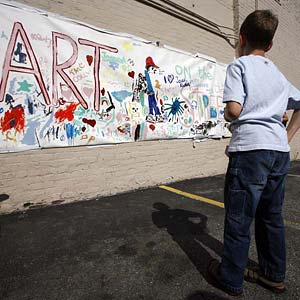 After taking a year's sabbatical to rest and regroup in 2005, new and returning organizers embraced Worcester's changing landscape and the festival's popularity, and relocated stART on the Street to Park Avenue in Worcester in September 2006.
2007's festivities brought over 20,000 attendees to view the 240 artists, 20 bands and performers, youth activities, food vendors and more! In 2008, the festival welcomed the largest number of attendees to date: over 25,000 for an amazing day, including the "Block Party" with larger-than-life cardboard building blocks.
Planning is in full swing for the next stART on the Street, seeking participation from a community eager to celebrate the vibrant cultural offerings of Central MA!